About us –
DIE FAMILIENUNTERNEHMER
WE DON'T JUST TALK ABOUT IT – WE DO IT!
90 percent of all German companies are family businesses. And: Many of those family-run businesses are global market leaders. We create almost 60 percent of all jobs attracting social insurance contributions and around 80 percent of apprenticeships in Germany.
WE DON'T JUST REST ON OUR LAURELS – WE ARE PROACTIVE!
We are the trusted voice of the German economy and are therefore a sought-after partner for politics, media and society. We need the best framework for current and future enterprises, since that is the key to success for Germany as a place to do business.
WE ARE NOT INDIVIDUAL PLAYERS – WE GROW STRONG TOGETHER!
We actively promote exchange between companies. We address topics that affect us on a political and personal business level. Our exclusive national events are a popular place for family entrepreneurs all over Germany to meet one another.
WE DON'T JUST THINK ABOUT THE PRESENT – WE THINK ABOUT THE NEXT GENERATION!
We family entrepreneurs are personally liable for the success of our companies. An important goal is the successful handover of our businesses to the next generation. We don't just rely upon our traditions to do that – above all, we invest in innovations.
REGIONAL EVENTS
A total of 16 regional areas and their regional associations are the basis of our work at local level. Regular events such as company tours are a meeting place for members and guests.
POLITICAL POSITIONING
We need the best framework for current and future enterprises, since that is the key to success for Germany as a place to do business. Our political topics and requirements include, among others: Employment market, energy policy, education policy and many more.
CONFERENCES
Political one-day events on current topics – in direct dialogue with politicians, scientists and representatives from the industrial sector.
FORUMS
Discussion meetings for family businesses. Family entrepreneurs report to each other about their visions, strategies and successes, but also about their flops – in an open, candid and direct manner.
CAMPAIGNS
As one of the few representative associations of German industry, we are able to adopt clear stances – regardless of sectoral interests. We demonstrate our core values with public campaigns, for more freedom AND responsibility.
COMMITTEES
We develop our easily understood statements in expert committees and in a strategic advisory group in which companies set the agenda. Politicians and other external advisors are regularly invited to meetings for a question-and-answer session with companies.
Your local representative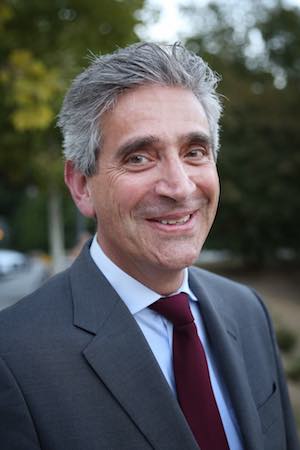 Lothar Grünewald, Managing Director of Grünewald Consulting GmbH, headquartered in Solingen, is an active member of the association and within the Regional Council Niederrhein since 2019.
Thus, the graduated economist and psychologist succeeds Dieter L. Schmidt and the Wuppertal entrepreneur Dieter Sander, who have until now been very successfully responsible for the work of the board in the particular region Bergisches Land.
In addition to his experience in strategy and communication, which he has as an international management consultant, Lothar Grünewald also provides the ideal meeting location for his volunteer work: The large wood-paneled hall of his office in the historic Rathaus-Palais, built 1891 in the style of neo-classicism, will in future be used as a meeting place especially for entrepreneurs from Wuppertal, Solingen and Remscheid.
"Together with our sister company LeaCo Lab, we want to create a communication and meeting place for family-owned companies here in Solingen, thus focusing more attention on the Bergische Land as an important NRW business location," emphasizes Grünewald, "the entrepreneurs have the opportunity to work on topics that really move them, such as: a successful company succession, innovation and growth strategy etc."